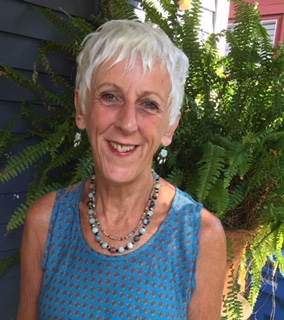 Raphaela McCormack is a certified Qi Gong Therapist, completing her studies with Master Lisa B. O'Shea,
at the Qi Gong Institute in Rochester NY in 2004
and with Master Robert Peng at the Elixer of Light Healing School of Qi Gong in 2008. She has been a student of Qi Gong since 2001, practicing as a therapist since 2004 and teaching Qi Gong and T'ai Chi for the last ten years in the Rochester area.
I grew up in the West of Ireland and I come from a family of three generations of physicians and surgeons, so of course Western Medicine was integral part of my early life.
I have always known deep within me, there had to be more to health and wellness than just the Western approach, and so my long journey began towards a more wholistic practice. Becoming a vegetarian and studying T'ai Chi in my early twenties, eventually led me to discover Qi Gong.
In 2001 I began my studies in Qi Gong and immediately knew I had found my passion and what to me was a way to bring health and wellness to the body. When I am not giving Qi Gong treatments, I am teaching T'ai Chi and Qi Gong, and also pursuing my other passion, which is my art career. I am a sculptor, making vessels from abaca fibre. I have a studio at The Rochester Public Market, where I work on my art. I have exhibited my art work, nationally and internationally.
I see a deep connection and balance between Qi Gong and art. In my life they bring me joy and keep me in a more balanced state of mind and body.
I believe life is a journey, filled with many lessons along the way and that we can embrace them, learn from them and become a better person, because of them.
Work Experience:
Qi Gong and T'ai Chi Teaching experience:
2004-2016 Qi gong and T'ai Chi at MVP, Rochester Ny
2004-2014 Qi Gong and T'ai chi Westside YMCA
2003-2007 Qi Gong and T'ai Chi Bayview YMCA, Webster NY
2005-2009 Qi Gong at The highlands in Pittsford, NY
2006-2016 Qi gong at The legacy at Blossom, Roch. NY
2009-2010 Qi Gong at the legacy, North Chili NY
2009-2016 Qi Gong at The legacy at Willow Pond, Penfield NY
2009-2014 Qi Gong at St John's Meadows, Roch. NY
2010-2013 Qi Gong at"Awaken" studio, Roch. NY
2011-2016 Qi Gong at the Breast Cancer Coalition, Roch NY
2012-2014 Qi Gong Brookdale Living Roch. NY
2005-2013 at Balance Acupuncture East Roch. NY
2014 Qi gong at The Wegmans Business Complex, Roch NY
2012-2016 JCC
Workshops:
Balance Acupuncture
Women's weekend at Camp Gorman YMCA
Breast cancer Survivors Brockport Ny
Women's weekend at YMCA Keuka Lake
Lectures:
Wilmot Cancer Center Roch NY
MVP
Oncology Unit Highland Hospital Roch Ny
To see my art work, please go to my website
click here www.raphaelamccormack.com